27 January 2022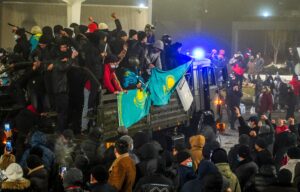 Thousands took to the streets to protest. While the regime promises to listen, its actions make clear: Dissent will not be tolerated.
Kazakhstan's "Bloody January" (Qandy Qantar in Kazakh) began in the western region of Mangistau with a peaceful but powerful protest against a sharp increase in the price of fuel after the government lifted its price cap. Residents flooded city squares in Zhanaozen and Aktau, and workers across the region went on strike. In just two days, the protest spread across every city in the vast Central Asian country, with citizens demanding social justice, civil rights, and political reforms. On January 7, President Kassym-Jomart Tokayev ordered the special forces and army battalions that were deployed in Almaty, the former capital and most populous city, to "shoot to kill" those who remained on the streets, whom he deemed to be "foreign-trained terrorists." The combination of violent repression and organized criminal groups hijacking the rallies turned the demonstrations into bloody battles.
In the aftermath of the clashes, which left at least 227 dead among demonstrators, rioters, and police, the president unrolled new measures to improve economic and social justice in the country, where inequality had reached unprecedented levels. According to a 2021 KPMG report, just 162 people own 50 percent of the wealth in Kazakhstan, a country with 19 million inhabitants. Tokayev has ordered reforms to the sovereign wealth fund, a reshuffle of personnel in the government, and the establishment of a civic council–run "Fund for the People." These concessions were met with skepticism—the default reaction of ordinary Kazakhstanis, who are not easily fooled after decades of authoritarian rule.
For many Kazakhstanis, their last hopeful moment was 19 March 2019, when President Nursultan Nazarbayev, who had held power for three decades, announced his resignation. Their sense of relief and hope for change, however, were immediately crushed when Nazarbayev's handpicked successor renamed the capital city, Astana, Nur-Sultan in Nazarbayev's honor the next day. This signaled that only the protagonists would change in the regime's script, but the plot would remain the same. The much-anticipated "sunset" of the Nazarbayev era was nowhere to be found—the repression of opposition, muzzle on free speech, and reliance on extractive industries would continue indefinitely. Recent events have validated this pessimism. Despite Tokayev's attempts to project a softer, more responsive image, his actions tell a different story: The regime is as intolerant of criticism and dissent as ever.
Democratic institutions have been nominally in place in Kazakhstan since independence in 1991, when the country was set up as a presidential republic. Yet Nazarbayev, who had also been a leader during the Soviet era, ran virtually unopposed in every election and set up a strong ruling party to beef up his support. He sidelined and persecuted all opposition forces, thereby building a system in which he ruled with the favor of a close circle of elite groups that controlled both the territory and every sector of the economy.
The people in Mangistau and across the country were well aware that the government's plan to transition the fuel-price system from capped prices to market competition by January 2022 was solely aimed at hiking profits for the cartel of companies controlling the regional market, and would put a greater burden on consumers. But, tired of being on the receiving end of a long series of top-down decisions that they could not challenge without facing repression, Kazakhstanis risked the consequences and took to the streets in January.
Similar complaints about cost-cutting measures in the highly profitable oil industry had been voiced in 2011, when an eight-month strike in Zhanaozen was quashed by security forces who shot unarmed oil workers, killing at least sixteen. Afterward, the government took more control over organized labor and put in place greater restrictions on freedom of assembly. Oil and gas corporations, both local and transnational, rejoiced. The marriage of local elites and global business actors has helped to solidify the country's kleptocracy.
In a 2018 Journal of Democracy article, Alexander Cooley, John Heathershaw, and J.C. Sharman noted that "to understand the operations of today's jet-setting kleptocrats, one must look beyond the borders of the polities they despoil." In other words, kleptocrats, including those in Kazakhstan, use and exploit existing legal financial and institutional networks to extract and grow their opaque wealth. The argument could be extended to include some western transnational corporations that use similar channels and collude with the same kleptocrats to grow each other's riches.
Hours after Tokayev announced the shoot-to-kill order on January 7, he tried to reassure foreign investors with a tweet in English (which he subsequently deleted): "The policy of open doors to the foreign direct investments will remain a core strategy of Kazakhstan." On January 19, he again tried to soothe foreign investors by tweeting: "The Government will take every possible measure to increase the confidence of domestic and foreign investors, and trade partners." Even while Tokayev's Twitter feed worked to assure international corporations and investors, his hit squads have sought to intimidate Kazakhstanis with force and violence.
In subsequent days and weeks, reports of brutally repressive measures, detentions, and attacks on local journalists and activists have emerged from the scant on-the-ground reporting. News from inside the country was further stifled by a five-day internet and telecoms blackout, which ended on January 10.
On January 19, the European Parliament passed a resolution calling for sanctions against government officials and "condemning President Tokayev's inflammatory rhetoric, including his portrayal of the protesters as 'terrorists.'" This was a strong, if late, denunciation of the urban violence. The Committee to Protest Journalists (CPJ) noted the next day how pervasive the pressure on journalists in Kazakhstan continues to be, weeks since the start of the unrest. "[It is] outrageous that journalists should be questioned about links to so-called 'extremist' organizations simply for doing their jobs," said CPJ's Gulnoza Said. In the wake of the most violent days, human-rights advocates such as Amnesty International and Human Rights Watch released strong statements urging authorities to restrain their use of violence and calling for a full investigation of events.
Now the president promises reforms. When he first took office in 2019, Tokayev spoke of creating a "listening state" that promised closer collaboration with state-sanctioned civil society organizations, and to this end he established the National Council of Public Trust. But the initiative failed to create a working platform for assessing the most pressing issues facing the people and was deemed a failure just months after it was announced. In mid-December 2021, ahead of January's turmoil, Tokayev revived the concept, saying that "officials must meet the expectations and take into account the wishes of every citizen." Now, according to the president, a new "government for the people" should consider popular demands and act accordingly to maintain social peace.
Yet at the same time as he was trying to restore calm with the announced policies, Tokayev also harshly criticized "some so called 'defenders of human rights' and 'activists'" during his January 7 televised address. He accused such people of "put[ting] themselves above the law and believ[ing] that they have the right to gather where they want and say what they want."
This message set specific boundaries for criticism of the government: Public demands can be formulated, but only through specific, institutionalized channels. Human-rights defenders now fear a season of even greater repression for civic and press freedom. Whatever words Tokayev may offer, his regime has made clear that dissent will not be tolerated.
Paolo Sorbello is a Research Fellow at Ca' Foscari University of Venice (Italy) and holds a PhD from the University of Glasgow (UK). He also works as a freelance journalist in Kazakhstan covering labor and political economy for several news outlets, including openDemocracy, the Diplomat, and Global Voices.
Copyright © 2022 National Endowment for Democracy
Image Credit: ABDUAZIZ MADYAROV / Contributor via Getty Images